In the world of computers, we frequently use the "thing" and the "word" proxy. In literal terms, proxy is something that acts as an intermediary for requests from clients seeking resources from other services. In relatively easier words, proxy provides you the access to the blocked Internet content. It acts as a gateway in providing free and full access to such content.
Why Do You Need Proxy??
Many a times we come across certain websites that are blocked and we can't access them. You might feel really frustrated due to it. (In reality, anything on internet cannot actually be "blocked." There is always a loophole to it because anything put on the internet remains on the internet forever. ) If you use Netflix, then you might have even noticed that there is always a specific content not accessible to some countries i.e. you can't see some of the American seasons or movies if you are a Netflix user in England.
Sometimes, you also wish to surf on the internet without the fear of being tracked. Proxies come in handy in those situations because they camouflage our IP address and help us browse freely on the internet.
There are several reasons which may prevent you from using certain websites or web content.
ISP Blocks the Internet
If you can't retrieve some websites which are accessible to everyone else in the world, then it is mainly because the ISP of your country would have blocked that specific content on account of restrictions imposed by the government.
Educational Institutes
If you are in a university or any other educational institute, you will definitely experience the blockage of some content. The mostly commonly blocked content in educational institutes is the social media content. Educational institutes usually never grant you the access to social media sites such as, Facebook, Twitter, Instagram, Snapchat, WhatsApp etc. These institutes have specially designed local area networks (LAN) which provide either no or partial access to such content. Some LANs of such institutes provide partial access i.e. the content is blocked for a certain period of day and it gets unblocked at night. The main purpose behind this is to not let the students deviate from their prime focus. And if you are a campus hostel boarder, then you will definitely be using so many proxy and VPNs to have access to YouTube which in all the cases is always blocked.
Offices
Just like educational institutes, many offices also provide limited access to the internet. Offices usually have their dedicated LAN systems. The internet mostly open to the offices only allows the link and content sharing of the company related tasks e.g. file sharing, emailing (using the company's email address) etc.
Which Proxies Are Safe?
You will come across many proxy websites which will claim to be safe and secure. But in reality, it is not always the case. There are about a million proxy websites on the entire internet which are quite dangerous and unsecure. Such proxy websites steal the personal data from your computer (or any device on which you are using proxy).
There are two ways to identify the safe proxy websites:
The secure proxy websites have nominal browsing speed. If you experience a proxy website searching the content slower than usual, it probably is not a safe site.
The secure proxy bridges between your device and desired website. It routes your data to different servers that are available worldwide camouflaging your IP address.
Proxy vs. VPN
Both Proxy and VPN aim to provide privacy to the user. The main difference between both of them is that proxy is free whereas VPN usually costs. Also, the ISP can still track you if you are using proxy but VPN hides you and your traffic completely to the ISP thus preventing you from being tracked.
Top 20 Proxy Websites
The top 20 free proxy websites providing safe and secure connection are listed below:
ProxySite.com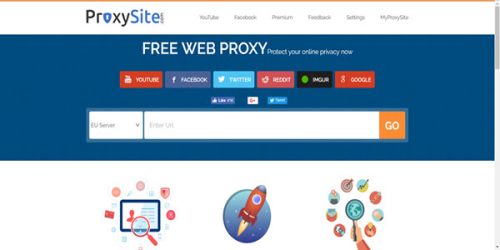 This is one of the best proxy website offering fast speed browsing. It provides easy access to social media sites e.g. Facebook, Youtube, Twitter, Reddit, Google etc. ProxySite has the buttons of these mentioned sites right on the top of URL bar on its homepage. Other than that, you can type the URL or the website in the URL bar and hit Enter.
It lets you browse via a variety of proxy servers from Europe and US. The best thing about ProxySite is that it lets you control the cookies, javascript and add-ons. It also offers premium VPN.
Hide.me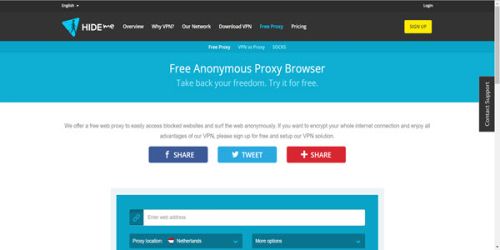 Hide.me also offers secure and fast connection. As the name indicates, it will actually hide your true identity by encrypting the URL. It also blocks the harmful cookies and viruses. You can change these settings by clicking on "More Options."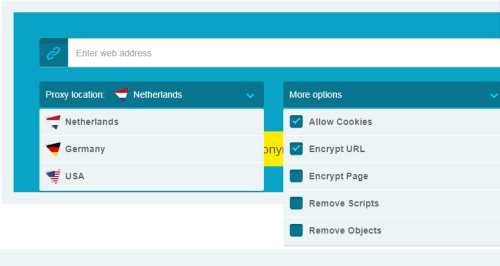 You can start your surfing by typing the URL in the URL bar. It also has the option to change the location of proxy to Germany, Netherlands or US.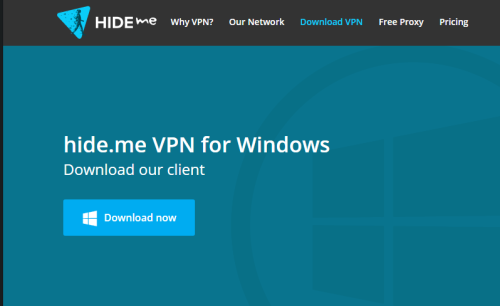 It has the option to download VPN for Windows. The VPN is available in both German and English.
FilterByPass.me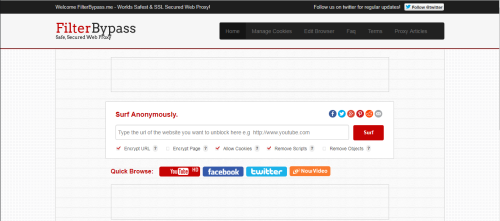 It is one of the effective proxy sites on internet. It provides secure connection by encrypting it with 128 bit SSL at all times. It is optimized to perform search in high speed.
All you need to do is to type down the URL of the website you want to visit. It also has a "Quick Browse" option offering access to Facebook, Twitter, YouTube and NowVideo.

The good thing about this is that it gives you the option to manually select the privacy settings from the bar below mentioned:

You can encrypt you URL, disallow or allow the cookies etc.
Kproxy.com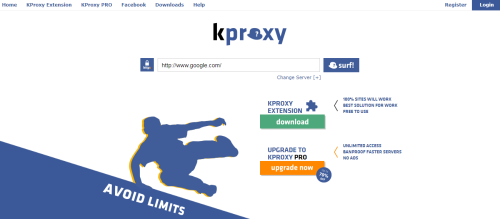 Kproxy is one of the best proxy website with 1,500,000 users around the world. It provides super-fast internet browsing. Simply type in the URL of website in the bar and hit Enter.
It is portable and free. It also offers extensions to Firefox and Chrome. After installing these extensions, your browsers will search via the proxy.

The premium version of Kproxy comes with variety of different advantages like unlimited downloads and ad-free performances.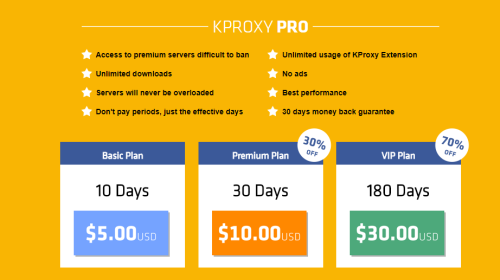 4everproxy.com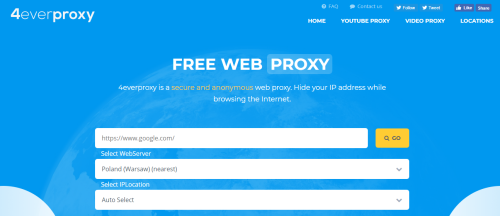 4everproxy is the best proxy site if you are willing to search and watch videos. It offers a favorable bandwidth for video surfing. Other than that, you can also search other content.
You can type the URL in the search bar. You can also the select the WebServer of your choice by clicking on the drop down menu.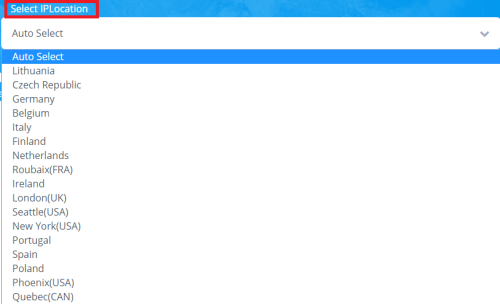 With that, you can also select the IP Location of your choice.

It also gives the option to manually select the privacy settings i.e. allowing cookies, javascripts etc.

BlewPass.com

It is also a good option if you want to watch YouTube videos. It is compatible with YouTube HTML 5 and Flash videos. It provides easy and fast access to the video based websites. The video streaming speed is also appreciable. It is secured by SSL and offers no limit on the bandwidth.
All you need to do is type down the URL on the search bar. It also has the option of Quick Links right at the left of the URL search bar. It offers link to sites such as, Google, YouTube, Facebook, Imgur, Reddit, Google Mail etc.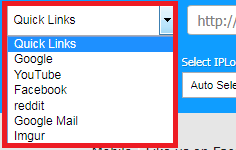 You can change the location of Web Server to Poland, Canada or the United States in its drop down menu.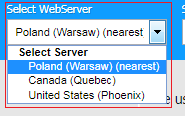 It also allows you to change the IP location from the list of countries it presents in its drop down menu.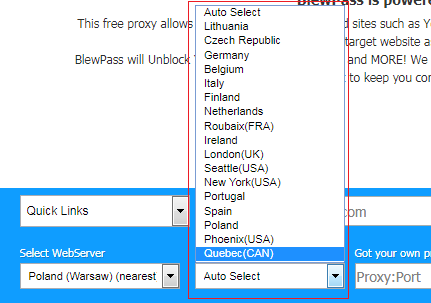 BlewPass.com lets you change the privacy settings based on your preferences. It lets you change the URL encryption and cookies option.

Dontfilter.us

This proxy website has a very simple layout with no fancy icons and extra stuff. It is easier to use i.e. user-friendly. Dontfilter.us is a bit slow as compared to other proxy sites but it still offers secure connection like many others. Simply type in the URL and hit the Enter button.
By clicking on right next to the URL search bar, it will display options of privacy settings.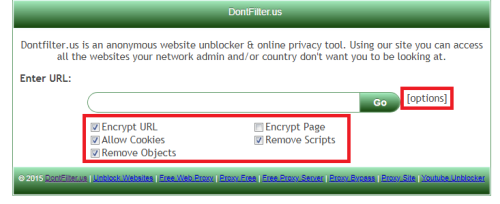 NewIPNow.com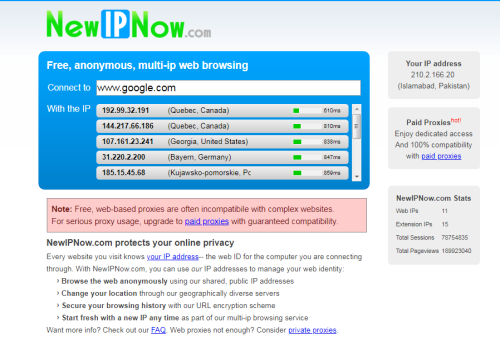 This proxy site helps you change your IP as per your desire. It offers IP addresses of different countries. You can choose the one which you find the most suitable.
In this way, it hides or camouflages your true identity and lets you surf anonymously on the internet. It offers good speed as well.
It is a free proxy site but its premium version comes with several other advantages. It also has a Firefox extension.
Hidester.com

It is also a very reliable proxy site offering secure and fast speed surfing. It is encrypted with SSL coding thus providing security to your personal data on the computers. It is free from malware and harmful viruses. It also comes with a VPN server.
Similar to Hide.me, it offers the web servers from limited locations i.e. Europe and US.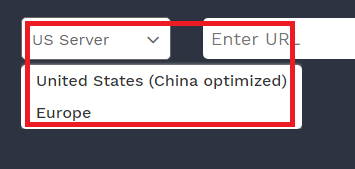 It also offers extension for Google Chrome.

BoomProxy.com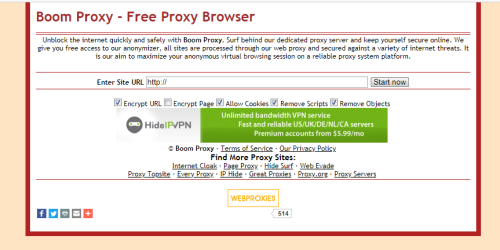 It also has simple layout like Dontfilter.us. Plus, it also offers the manual option for changing the privacy settings to enhance user's data security.
You can unblock any website by typing into the URL search bar. It offers unlimited browsing with no limitations on bandwidth. It also has a good speed.
Zend2.com
Zend2.com is another good option for unblocking the video content especially on the sites like YouTube, Facebook, Twitter, Instagram, eBay shop and BzzFeed.
The layout is relatively simpler and lets you browse through unlimited web content for totally free.
By clicking on , it will let you choose the settings as per your requirement. It lets you encrypt URL, remove scripts and even encrypt or decrypt the pages.

ProxyTurbo.com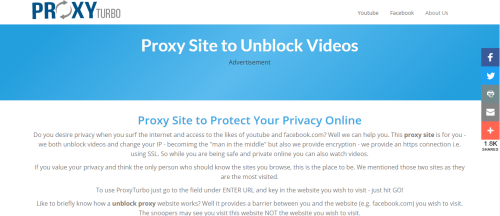 ProxyTurbo.com offers high speed and secure connection. It unblocks literally everything on the internet including Facebook, YouTube, and Twitter etc. The homepage looks like in the screenshot above.
You will have to scroll down to the page to enter the URL into the URL bar.

It automatically removes the cookies it uses after 24 hours so you need not to worry, if in any case you forget to remove them yourself.
UnblockProxy.me

This proxy site is also a good option if you are willing to unblock the content on internet. It changes your original geographical location and assigns you a new IP address thus allowing you to surf freely and anonymously on internet. It also unblocks any specific content blocked in a particular country.
You just have to type down the URL in the search bar and it will navigate you to your desired website with a secure connection.
Anonymouse.org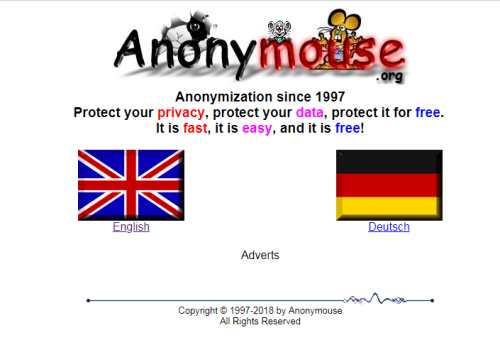 It is a browser-based proxy website. It offers access to unlimited access to the web content. It has two language options i.e. English and German.
It has services for both free and paid users. If you are using it for free then you will be directed to many ads. For premium version, it offers supplementary services e.g. SSL encryption – improving the user privacy.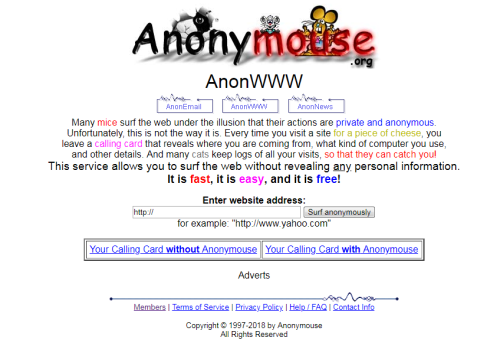 You can either type down the URL or just a name (as it is a browser based proxy site).
VPNBook.com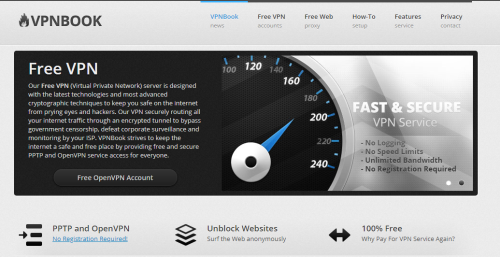 VPNBook.com renders free unblocking to the blocked web content. It is basically a free VPN service providing secure and safe connections to the user. The homepage looks like in the screenshot attached above.
Simply click on "Free Web" option on the top bar of the page.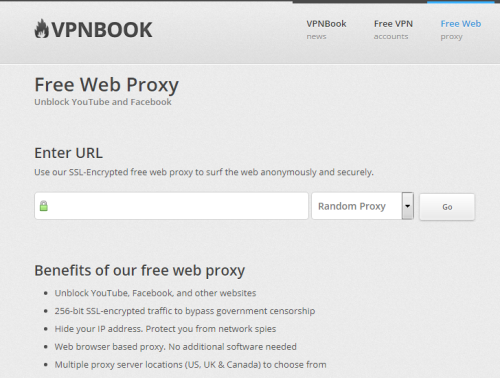 You can type the URL in the URL search bar and proceed on. The proxy server is set to "Random Proxy" by default. You can change the location to UK, US, France or Canada.

Unfortunately, it does not grant control over the cookies and this is the one major drawback of it.
Megaproxy.com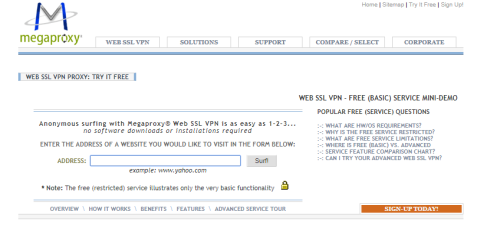 It works quite differently than the ones mentioned above. It not only hides your IP address but also masks the browser and your operating system. It comes both in free and premium version. However, the free version does not provide too many features e.g. you can't view more than 60 pages in 5 hours. The free version also doesn't block the JavaScript.
It is still a good site to unblock the content if privacy isn't your main concern. Simply type in the URL in the search bar and you are good to go.
Proxify.com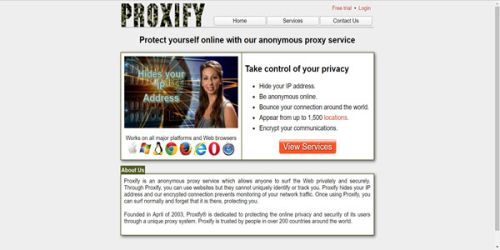 It is also a good site to surf the blocked content on internet. It ensures complete security to the user. It even camouflages your original IP address. It offers both free and premium version. It works for Windows, Linux and even Apple. It offers extension to Chrome and Firefox both.
24Proxy.com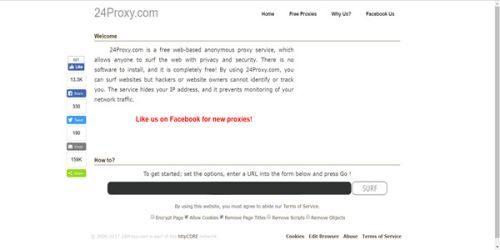 It is also a free proxy site for browsing the locked up internet websites. It offers secure connection and fast speed. The layout is simple. All you have to do is type the URL in the search bar and it will unlock your desired site.
HideMyAss.com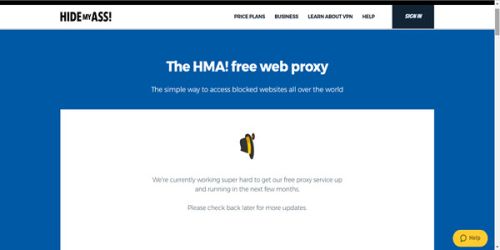 It is probably the safest proxy site on the internet. In addition to that, it is also fast and unblocks blocked contents on the internet. It offers both proxy and VPN services for free. The user interface is simple as you just have to type the URL in the search bar.
Whoer.net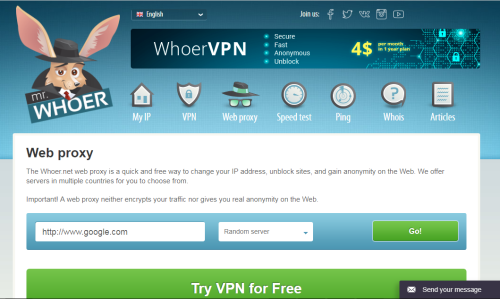 Like all the proxies mentioned above, it also provides surfing in a very secure and fast speed. However, it has a unique feature than the rest and that is the Ping Test which lets you check the response time before actually performing the search.
In addition to that, it has a lot of option for web server locations including UK, France etc. To unblock the site, simply type its URL in the search bar.