If you have been working in dark on Mac for some time, you probably have noticed that you can't reduce brightness as much as you can do on Window device. Working with high brightness for a long time increases eye strain and many times leads to headaches.
This was a problem for me too. I work many hours continuously in the night & high brightness not only annoyed me but also caused painful eyestrains. The first solution I tried to reduce eye strain was Flu.x. Its now built-in MacOS and have a very good result but it only reduces blue light, the brightness level remains the same.
To solve the brightness problem I tried a couple of solutions until I find the best working one. And the solution was Screenshade.
ScreenShade
Screenshade is a tool that adds a black layer on the screen to further reduce the brightness. This technique does not save you power but it can help you reduce eye strain. Its quite helpful for those people who usually work in dark.
This tool is totally free and this means its rarely updated but it works quite well on new OS too. The Latest version of Screenshade requires Mac OS X 10.5 or later.
You install this application the same way like you install others. Make sure you install it before opening by dragging it into the applications folder. Download it here.
Using Screenshade
After installing screenshade, you will get an option in the menu for further settings. You may also1 change diming by using shortcuts, usually its option with plus & minus for increasing or reducing brightness.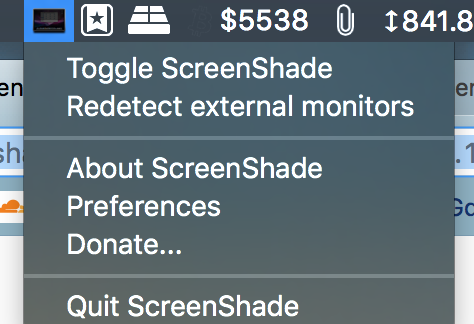 The best way to take advantage of this tool is by reducing your Mac brightness to minimum level using default controls and then adding a layer with Screenshade.
This tool may not start automatically on restart so you may need to add it into startup sequence or run it everytime you need.
There are some other solutions out there too but It's the best one. I am more interested in a solution that can reduce brightness by dimming backlights, that way we can save some battery.
If you know a better solution, let me know in the comment. Thanks