I have been trying to optimize my workflow for the last five years and in this time I have tried a lot of apps and techniques to help me perform at my best. It took me a lot of trial and error to find the perfect combo of apps to run my workflow effectively on daily basis and that's why I thought to blog about it.
Before we start, remember that having more apps doesn't mean that you will perform better or more productive. More apps mean more complexities. You need to find a balance between complexity and productivity so you spend more time working and less time managing things.
In the list below, I will share how i use these apps to manage my workflow and how you can do the same, so let's jump right in.
Timing App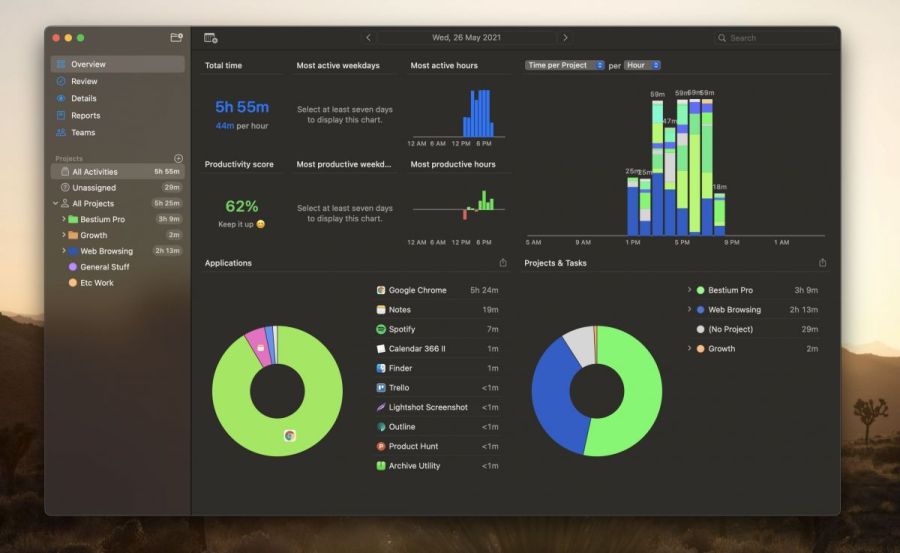 I would say this is one of the best Mac apps ever developed for people working online. I would tribute most of my work discipline and planning to this app because it helps me track how I spend my time every day, all year round. It shows me a month on month time logs in very simple and beautiful graphs. I feel I can measure my work dedication and discipline using this app. It also helps you track how productive you are and at what time you are most and least productive.
What I like about this app is that it helps me see where I spend most of my time. I don't need to do any manual entries at all like in other time tracking apps. It shows me the number of hours spends on any site, what I was doing exactly on a specific day and time. And at end of every day, I can go and see the timeline to understand how my day went.
I believe in the quote "What you can measure, you can improve", so this app helps me measure so I can make deliberate choices to improve my productivity.
Pricing: Timing is a paid app. You can use it on trial basis. You can buy it once for around $70 and renew every year. If you dont renew, you lose access to syncing feature and updates.
Site: timingapp.com
Trello
Trello is my go-to app for project management. It's easy, simple, and helps you get the job done without any complexity. I would agree that it lacks a lot of features that would make it better but still, it gets the job done and its ease of use makes it perfect for any project.
You might already be using this app and know how awesome this is so you can go ahead and check other apps. For those who don't know it's a very simple Kanban list-based app. Consider it like sticky notes in organised columns on a wall, each note serve as a task and contains all the details, team communication and sub-tasks.
On board you only see list of sticky notes with title but you can open each sticky note to go in detail. This board you get a overall idea of whole project in just a single look. Remember I mentioned the wall earlier where your sticky notes are posted, consider that wall your board and just like you can have multiple walls, you can have multiple boards inside Trello.
Price: I guess majority of Trello users use it for free and only move to pro version when they have special needs or more team members. I guess this is how they convert users. Anyways you can use this app for free for unlimited time, and free functionalities are enough for small teams to get their work done.
Site: trello.com
Apple Notes
You might be wondering that you came here to read the best apps for Mac and I am sharing the already installed simple note app!. You are right, but don't forget that I mentioned earlier that it's not about shiny apps but rather about getting the job done. So when it comes to managing notes and docs for personal use. Notes is my go-to app. This is where I store all my company notes, planning, and everything for every project. It uses the Apple sync feature to make your notes available on all Apple devices without the need to pay anything extra.
I am aware that note is not the right app for collaborations and is more suited for personal use but if collaborations are your goal then the next app is what you are looking for.
Price: Its free and come preinstalled with most apple devices.
Notion
You may have heard about it, if not then its one of the most popular notes apps these days. It would be wrong saying that its only notes app as it let you do everything you can imagine in a management app. You can make spreedsheets, notes, trello like boards, documents and a lot more. Interestingly you can add all of these elements in one single page and thats what make it very useful.
I prefer to stick to Mac notes for sensitive information and only use notion for collaboration-related work. It's only my personal preference, not something you must adhere to.
Pricing: Notion has a free personal plan you can take advantage of, before moving to pro plan when needed.
Site: Notion.so
MilaNote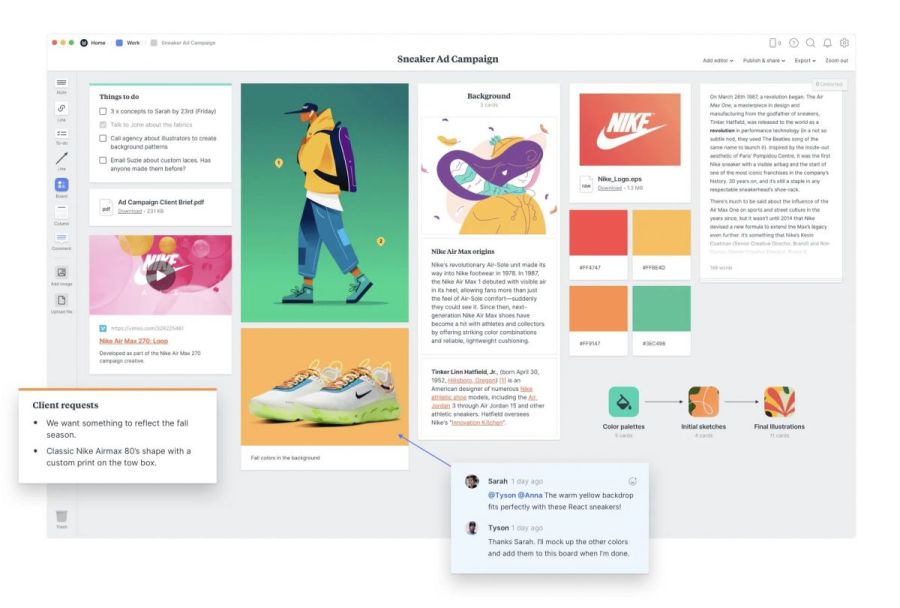 If there is one app that I love the most for brainstorming then it's Milanote. Its concept is similar to Trello but visually it's very different. Consider it an endless wall of sticky notes. You can post sticky notes anywhere on the canvas, link them together with arrows, color each note specifically, add images, and much more.
This app helps me get things out of my mind into existence. You get a clear picture of everything and it becomes much easier for you to make decisions. It's more specifically suited for creative individuals who need to make mood boards, collect interesting images and do brainstorming, but anyone can take benefit of it.
Pricing: Milanote is free with limited number of notes which are not enough in my consedration and paid plans start at $10/user.
Site: Milanote.com
Workflowly
Workflowly is another cool tool that you can use to plan your day. Its one of those tools that I use once in a while to do planning work. There is one one feature that separate it from rest of note taking app and that infinite number of child list, like you create an unordered list, then you make a child, and new child and new child and so on. You can organise your ideas in branches. Collapse and expand them and see them in one go. This is usually go to tool for writers to help them make a clear picture of what they are gonna write about. Its worth giving a shot.
Pricing: Workflow have free plan and is good enough for basic use. There pro plan is cheap and you can use altreanative dynalist for even more featues for free.
Site: Workflowly.com
Stack Browser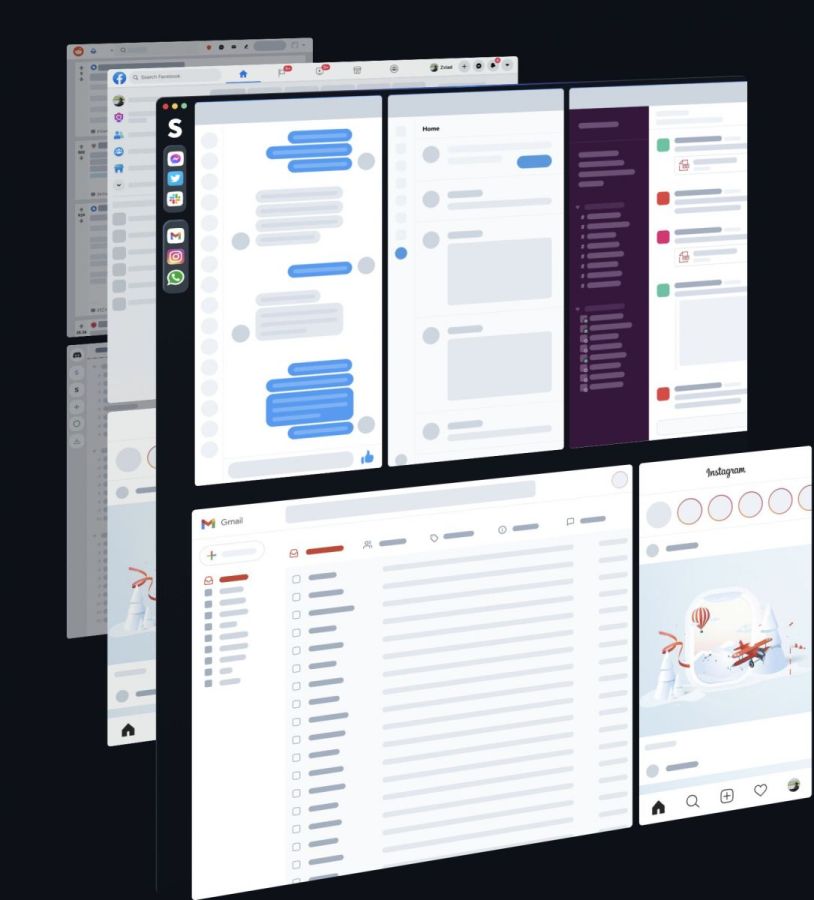 It's not the 90s anymore where we would just open a site to get information or fill forms. Now you can find full-fledged apps, games, and everything online in the browser, without the need to install them on your PC. Some good examples of this would be Google sheets, MilaNote, and Notion. Current browsers are good enough to help you use online apps effectively but what they lack is the ability to organize the tabs in an orderly manner so you can open ten different tabs at the same time and work across them simultaneously.
You would remember the time when you have to research data from few sites and save that in another tool, you would go from one tab to another and keep repeating the loop, forgetting where you were, wishing you could have multiple monitors so you could visualize all of the work in one go. That's what stack browser is solving. It treats websites more like an app. You can save multiple websites as apps. Open all of them in one click. Make groups. Visualize all of the tabs on one screen and do work simultaneously across all of them. It's seriously time save when you are working across multiple tabs. And also offers you some collab features.
Price: Stack browser is free for use.
Download: From Developer site
Google sheets / AirTable
Yes, you can say that these are not Mac-specific apps but I love sheets. Don't stop reading, just give me a minute to explain. I know a lot of people don't like sheets, they feel bloated, hard to use, and are not so user-friendly. I hated sheets until one day my friend showed me how to use them and after that day I incorporated them into everything I do, even logging my daily work performance, journaling, timetables, and every place where data is involved. The reason is simple, you can customize the sheet the way you like. It's like you have separate software for everything.
If you dont like Google sheets and you find sheets hard to use then give AirTable a try. This might change your life for good.
Price: Google sheet is free for use and Airtable have both free and paid plans.
Raindrop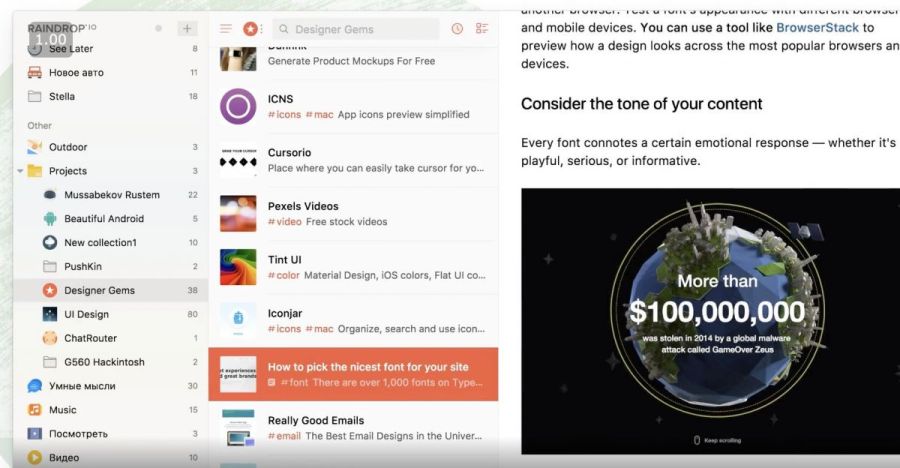 If you are a person like me who find it hard to manage bookmarks using built in browser tools then this is the perfect app for you. This app lets you organize bookmarks in an orderly manner with tags and categories so next time you can easily find the app you are looking for.
This is actually browser extension which you can install in your favourite browser. It have sync feature built in so you don't have to worry having bookmarks available on different devices.
Price: Raindrop is free for use with pro version offering additional features at affordable price.
Site: Raindrop.io
CopyClip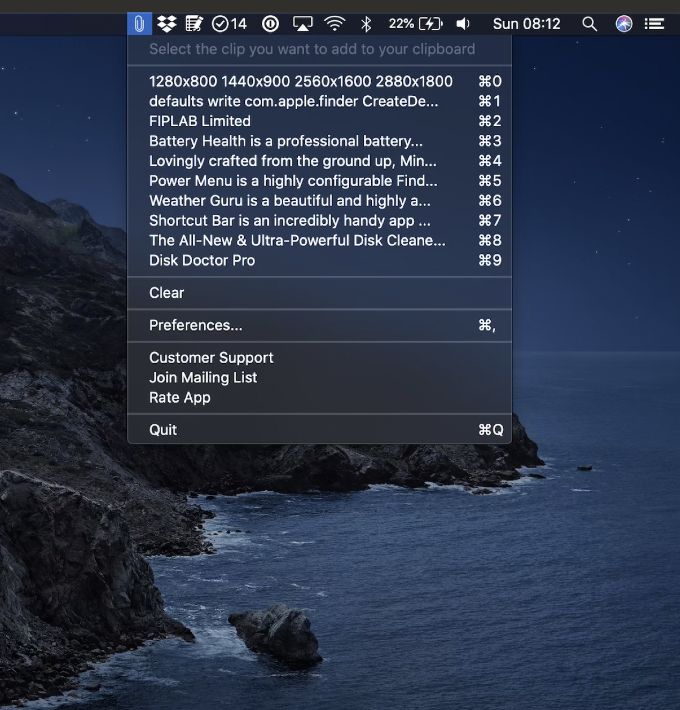 Copyclip is my secret copy/paste tool. It just provides a clipboard for items you copy, so you can access the ten most recent copied texts at any moment. Although its small utility but proves to be very helpful on daily basis.
CopyClip is free but they do have paid version with additional features if you like to buy, but you are not forced to buy it. The free version work fine and is enough for me.
Site: Download From Apple Store
Calendar366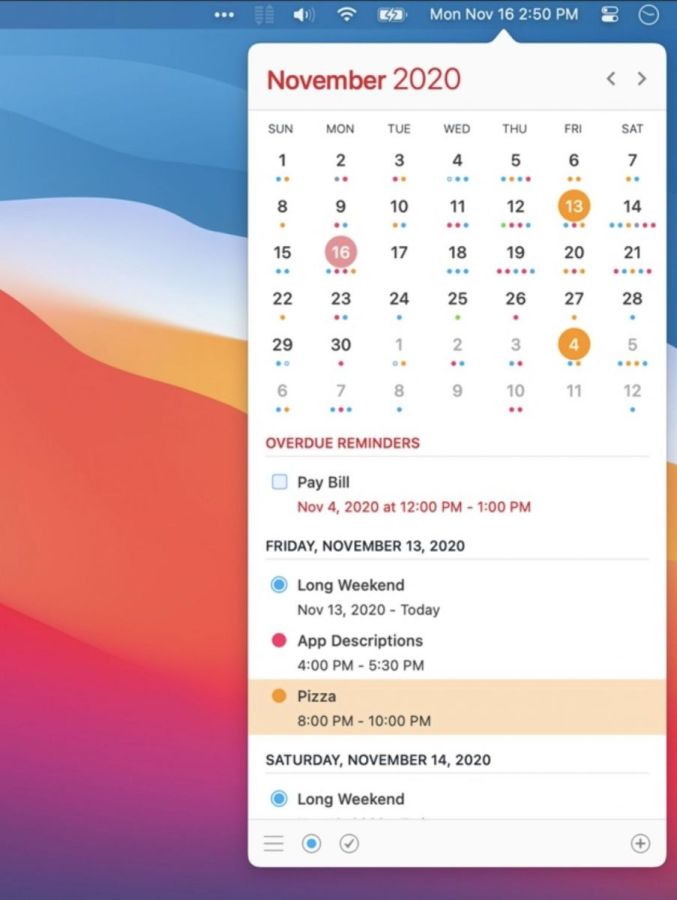 If you are a professional I bet you use the calendar very frequently to manage your day-to-day work activities. Calendars can not only help you manage your days effectively but also help you see how you have been spending time over the years and months. Anyways, here we are talking about Calendar366. Its not just another calendar app but rather a utility that lives in your menu bar and connects with your regular calendar and helps you see and manage things without opening calendar apps. I love this app because I just need one click to see what I have coming up.
Price: Calendar365 have free trial and cost you $15 for unlimited access. You might only be able to get trial for developer site.
Site: Download From Apple Store
CoffeeBuzz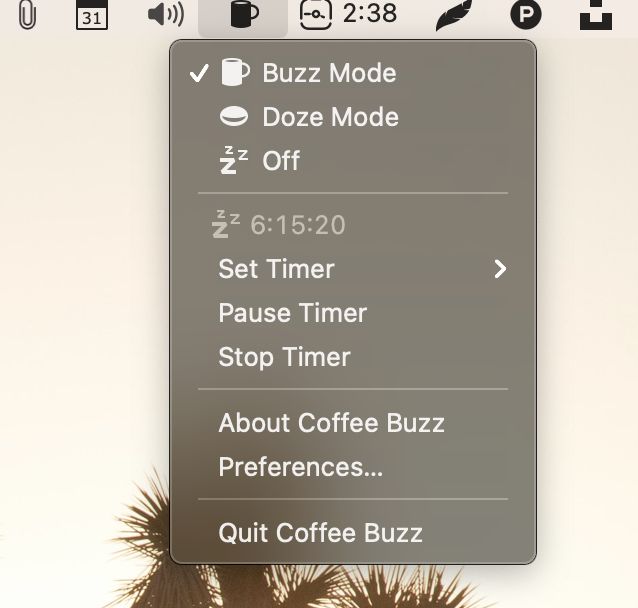 You might remember how annoying it is when you try to download something or doing something specific like reading and your laptop goes to sleep after few minutes. This is annoying. You can change the sleep-out times but most of the time you want your mac to sleep when not in use to save battery and protect your data in case you forgot to lock, but sometimes you dont want it to sleep, thats where CoffeeBuzz came in.
Its a very simple tool to help you keep your mac awake and prevent it from sleeping for a fixed or undefinite time, directly from your menu bar. I discovered it when i was downloading 100gb file on slow interent and needed to keep my PC up for whole night without letting it sleep and this is what worked for me. Another intersting feature that you can still lock your PC but it wont go to sleep. Isn't that cool?
Price: CoffeeBuzz is free utility.
Download: From Apple Store
Tip: Unsplash Mac App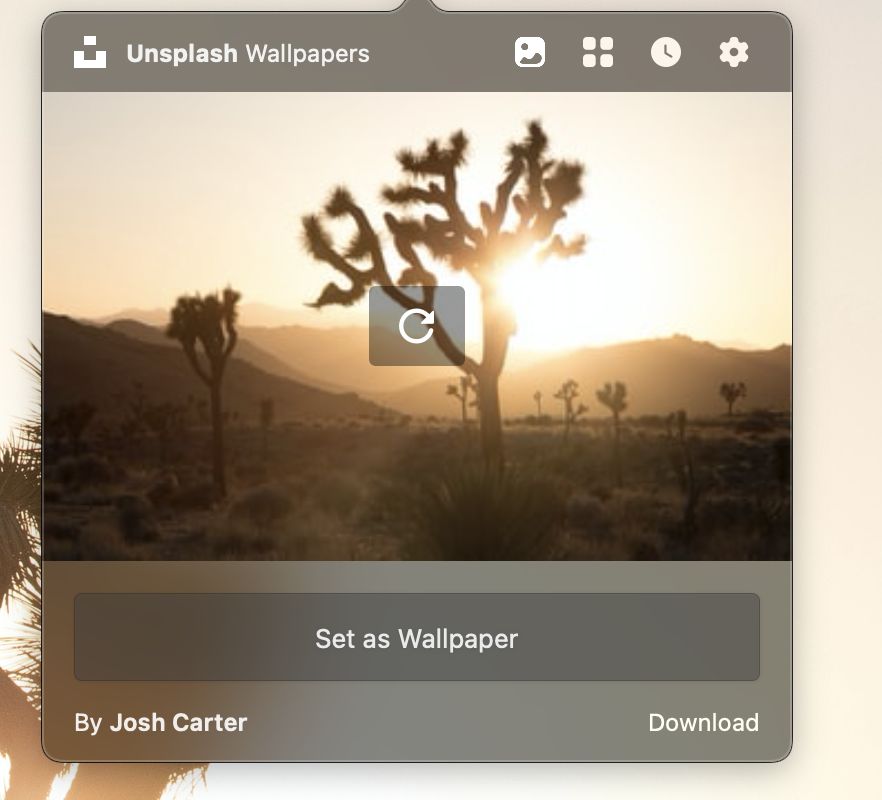 This is a bonus addon for you in case you don't have enough time to change your wallpaper often. This will change your wallpaper every day with featured photos from unsplash and don't worry you can change them with one click. Isn't it good that every day you see something new from around the world instead of one boring picture every day.
Download: From Apple Store
Back To You
I know you would be able to find thousand more apps for productivity but remember our goal was to make things simpler not complex so these apps are enough to get you through the day. Let me know if you some other cool app I can add to this list that made your life easier.